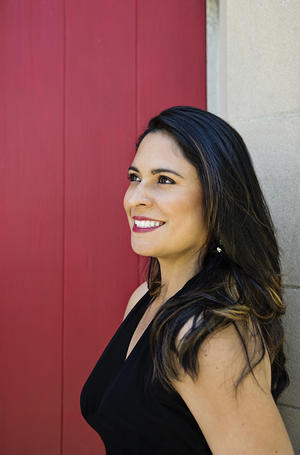 Adriana Linares, Viola
Venezuelan-American violist Adriana Linares is one of today's most talented artists, she has an active career as a chamber musician, pedagogue, conductor, mentor, and entrepreneur.
Her playing has been called "meltingly beautiful" by Naxos label reviewers, her performances and recordings have received international acclaim in Venezuela, Puerto Rico, Mexico, Canada and the USA. She was described by Grammy Award-winning violist Roger Tapping as "an artist of extraordinary merit and ability who is not only excellent but also distinctive, characterful and individual."
Ms. Linares is the founding President, and Artistic Director of The Arts & Community Network (ArCoNet), a nonprofit organization founded in 2012 based in North Wales, PA. Under the umbrella of ArCoNet, Ms. Linares has launched innovating music programs including a string academy with 120 students, a youth and chamber orchestra, intensive solo boot camp retreats, the Dalí Quartet International Music Festival, college preparatory courses, community outreach partnerships and collaborative projects. Ms. Linares has mentored hundreds of students with successful careers in the music field, as performers, educators and arts administrators.
Ms. Linares is also the founding violist of the award winning Dalí Quartet, with whom she has embarked on recording, performing and educational projects in the US and abroad. She currently serves on the faculty at West Chester University of PA, as part of the Dalí Quartet residency. She regularly performs as principal and assistant principal viola with the Iris Collective, and the Harrisburg Symphony Orchestra. Ms. Linares was recently appointed to be in the board of directors of Chamber Music America.
Recent performing collaborations include performances and recordings with acclaimed pianist Olga Kern, and clarinetist Ricardo Morales. Highlights of solo engagements include her debut at Carnegie Hall with the US première of Venezuelan composer Modesta Bor's Sonata, and the world première of Howard Hanson's Summer Sea Side #2, recorded under the NAXOS label.
Ms. Linares holds a Master's Degree in Viola Performance from Temple University, where she studied with violist and Curtis Institute of Music President Roberto Diaz. She also holds a bachelor's degree from Indiana University where she studied with distinguished violist Atar Arad.
In her spare time she enjoys cooking, traveling, power walks, the outdoors, and spending time with her family and friends.