Back to List
News
October 30, 2020
Dalí Quartet Announces New First Violinist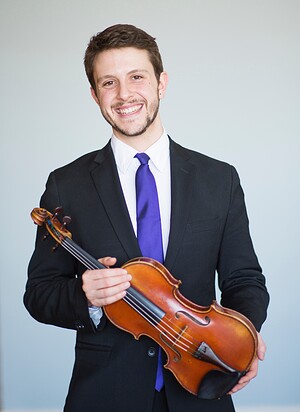 Violinist Ari Isaacman-Beck joins the Dalí Quartet
We are thrilled to announce that violinist Ari Isaacman-Beck has joined the Dalí Quartet as our new first violinist. Ari brings to the Dalí his "enormous soul and a big, vibrant sound," his deep expertise and open approach to a wide variety of repertoire, and a commitment to community engagement. In addition to his many musical skills, Ari brings another bilingual voice to the Dalí Quartet, known for our "Classical Roots, Latin Soul." A magnetic and multi-faceted performer, Isaacman-Beck is a noted prize-winner and has given performances as a soloist and chamber musician across North America, Europe, and China. In addition to his collaborations with the Borromeo, Chiara, and Attacca String Quartets, Ari Isaacman-Beck performed extensively as violinist of Trio Cleonice, including appearances at Boston's Jordan Hall and Amsterdam's Concertgebouw. Ari's commitment to education and diversity is a good match for our ongoing projects, including the Dalí Quartet International Music Festival, now in its 16th year. We are energized by the spirit and dedication of all of our students at West Chester University Wells School of Music where we serve as the Quartet in Residence.
We want to give our most heartfelt farewell and salute to violinist Domenic Salerni, whose tenure with the Dalí was a rich and dynamic period for us and for our audiences. While Domenic starts his new chapter with the Attacca Quartet, he leaves an exceptional legacy in his work on our new recording, with pianist Olga Kern, slated for release on the Delos label.
During the uncertainty of the pandemic, we continue to perform both live and virtually, including upcoming performances with pianist Olga Kern for Concerts International in Memphis, and at the Society of the Four Arts in Palm Beach, and at Strathmore Hall in North Bethesda, MD.