Back to List
News
May 1, 2011
Hello Dalí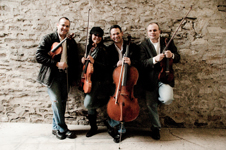 In a Dali Quartet concert, Beethoven rubs shoulders with Turina; Beethoven with Villa-Lobos. The Philadelphia-based
ensemble is made up of three Venezuelans (violinists Luigi
Mazzocchi and Carlos Rubio and violist Adriana Linares and a Puerto Rican cellist Jesús Morales) and has made a specialty of Spanish and Latin American music. But it is rooted in the classics of Central Europe.