Back to List
Study With Us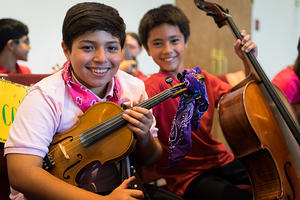 Dalí Quartet International Music Festival
August 9 - August 15, 2021
The Dalí Quartet International Music Festival (DQIMF) is one of the region's leading chamber music and orchestral summer programs. Founded in 2004 by Venezuelan violist Adriana Linares and violinist Carlos Rubio (members of the Dalí String Quartet), the DQIMF runs under the auspices of the Arts & Community Network (ArCoNet).
The DQIMF offers students unique musical, cultural, and social experiences. The festival has attracted hundreds of musicians from all over the USA, Brazil, Ecuador, Colombia, Venezuela, Korea, Bulgaria, and Puerto Rico. The DQIMF accepts students from beginner/intermediate through advanced/semi-professional levels.
At the DQIMF, students attend faculty recitals, daily chamber music coachings and rehearsals, string orchestra rehearsals, master classes, fun social activities, and a variety of workshops such as: Body rhythm, instrument making, body awareness, jazz improvisation, college preparation, and learning Latin American folk music.
Coachings and master classes are led by ArCoNet faculty, members of the Dalí Quartet, and prominent guest artists from major symphonies and conservatories from across the United States.
Current participants and alumni from the DQIMF have attended prestigious institutions such as the Curtis Institute of Music, Reina Sofia Conservatory (Spain), the Cleveland Institute of Music, Bard Conservatory, the Colburn School, University of Michigan, the New England Conservatory, Indiana University's Jacobs School of Music, Rice University's Shepherd School of Music, among others.
Related Links